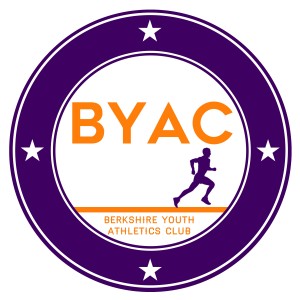 Berkshire Youth Athletics Club; a club created to teach the FUNdamentals of running, throwing, and jumping, in a fun and engaging environment.
BYAC provides an excellent opportunity for children currently on the waitlist at their local athletics club, to begin their athletics journey early.
Initially to run under the StepUp banner, the club aims to become affiliated with England Athletics and Berkshire Athletics Association.
Initially the club will be accepting registrations from children aged 6 to 12 years old, with a view to expanding the age range later in the year.
Club training sessions will take place on Wednesday evenings at Edgbarrow School, Crowthorne as follows:
Early Session 6pm – 7pm
Late Session 7pm – 8pm
Spring term training sessions commence on Wednesday 9th January, and will run for a total of 12 sessions, with the final session taking place on Wednesday 3rd April. There is no training during February Half Term week. The total cost to attend the spring term training programme is £66 per child.
If you've been offered a place to train you will have received an email containing a link to enable you to register and pay your athlete's fees. 
Waitlist
Should both squads reach capacity we will operating a waitlist on a strict first come first serve basis. To join the waitlist please complete and submit the registration form below. We'll do our best to confirm a place as quickly as we can.
Please ensure you read our Privacy Notice before completing the registration form.
Important Information
Club training sessions take place at Edgbarrow School on Wednesdays between 6pm and 8pm, inside the school gymnasium, which is the large white building seen to the right side of the school's main reception. NOT THE SPORTS CENTRE. 
Athletics club is an all-weather club, which means that as long as it is safe to do so, we operate in rain and cold conditions. Please ensure your child attends each week with the following kit:
Shorts or running leggings, with t-shirt or running vest

Sports trainers

Warm layer (either a base layer or fleece)

Waterproof jacket

A non-fizzy drink
Sessions begin promptly at 6pm/7pm, staff will be available to greet you from 5.55pm/6.55pm, where you will be required to sign your child in. Please do not arrive earlier than this time as staff will be busy preparing the session and therefore unavailable to greet you. 
To ensure your child remains focused on the session and learns and develops accordingly, we request that parents do not stay and watch. 
Collection is from the drop off point at 7pm/8pm.
Berkshire Youth Athletics Club Registration